Though Elinor isn't at the stage yet where things "aren't fair" and not appreciating what she has, I have been around plenty of children who say these things. I have worked with children for years and also have 6 nieces and nephews. This is such a common phase for kids to go through but now more than ever I seem to be seeing it. Maybe it is technology, maybe I'm just noticing it more.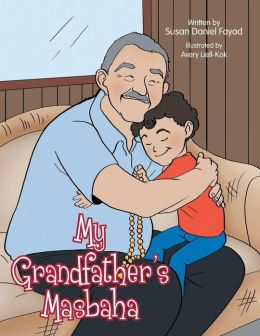 My Grandfather's Masbaha
is about a little boy, Adam, who is sooooo bored and has nothing to do even though he just spent the day playing with friends (sounds familiar anyone?). Adam's Grandfather helps him see everything he has in his life. When Adam's Grandfather introduces his Masbaha to Adam, he explains it as something a person uses for prayer, passing time or even just for decoration. They begin remembering everything Adam has in his life. His toys, his family, his friends, counting everything on the beads and remembering how everything is a blessing. It is a sweet story. I think a lot of children could benefit from "counting their blessings" and going over how much they have in their lives.
The last page of the book is all about the Masbaha. It was good for us since we didn't know much about it. I love to be able to expose Elinor to other cultures. It was nice having any questions we had about the masbaha right on hand.
You can find My Grandfather's Masbaha on
Amazon
or
Barnes and Nobles
in paperback and ebook.